Divine Feminine Crystal Candle
Regular price

$29.80 USD

Sale price

$29.80 USD

Unit price

per
Tap into your Divine Feminine with our Divine Feminine Crystal Candle. Embrace the Goddess energy that exists within you as you recite this affirmation while lighting this candle
I AM POWERFUL in my Feminine Energy.
Crystals: 
Rose Quartz: encourages kindness, compassion and love and calms emotions. Used to encourage tranquillity and quiet during meditation and improves emotional healing and general well-being.
Carnelian: inspires confidence and empowerment, inspires creativity, supports sexual energy, promotes self-love
Scent: Our secret blend! It smells sweet, fruity and super feminine ✨🌸!
Description:
100% soy wax with fragrance oils added for scent
Our candles are 100% handmade, so each may be slightly different in appearance and colour
Each candle is approximately 10oz
Gold Metal Lid
Do not light

 

for more than 4 hours
Your order will come with one candle
Instructions:
You can light this candle with the crystal inside of it. Each candle will melt differently as the crystals move around. Please do not leave any candles unattended. Blow the candle out and move the crystal away from the flame if needed. We recommend removing any large crystals before lighting to give an even melt to your candle. Keep your wicks nice and trimmed (about 5mm long). Bring any crystals to the end of your candle and rinse them in warm soapy water if you want to keep them (or remove them before lighting). If hot, allow crystals to cool before removing them. 
Caution:
Keep crystal candles away from flammable objects and away from children and pets.
Crystals are choking hazards.
Disclaimer: 
Our products are intended for the customer's personal use and discretion, with no scientifically proven medical, mental or health benefits. Please practice caution when using our candles, especially when hot or placing the candle near or on sensitive surfaces.
Share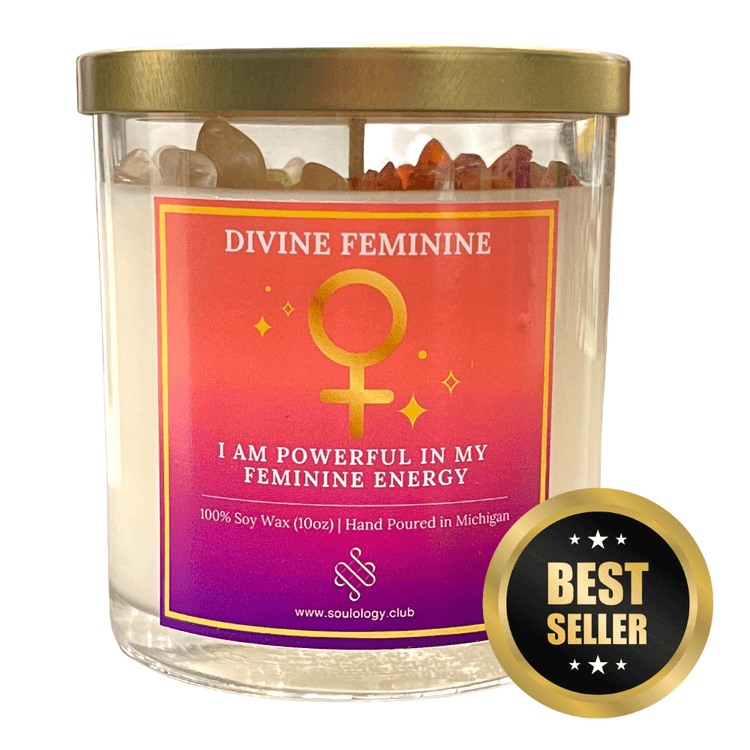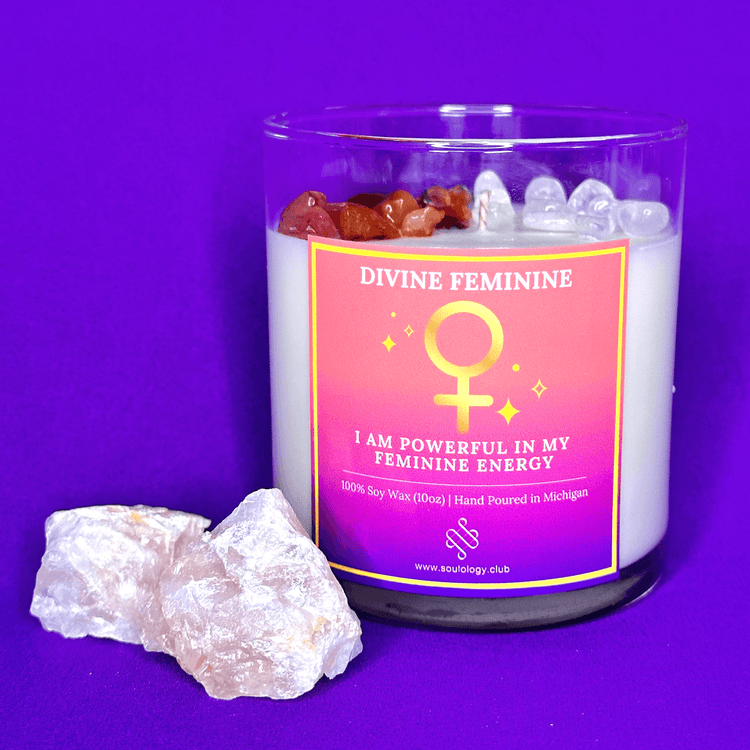 My candle arrived quickly! It is so calming and relaxing and super feminine at the same time. So happy with my purchase!
Like it's name... smells feminine and Divine!
OMG
This candle is the best smelling candle ever! I managed to get my hands on them after it sold out the first time and wow 🤯 I see why they sell out so quickly. And the affirmation on it makes everything so intentional. I love it!
This candle adds a feminine touch to my room and it smells so good! I love the affirmation that comes with it too.