Money Magnet Crystal Candle - Wealth Attraction
Regular price

$30.80 USD

Sale price

$30.80 USD

Unit price

per
Our Money Magnet Crystal Candle is the perfect tool to attract abundance and prosperity into your life. This candle is infused with powerful crystals that enhance manifestation and wealth attraction. Use it during meditation, affirmations, or simply light it up to infuse your space with positive energy.
The Money Magnet Candle is made with high-quality ingredients and carefully crafted to provide the best experience. Its scent is a blend of essential oils that promote relaxation and mental clarity, allowing you to focus on your goals. Get ready to manifest your desires and attract wealth with the ultimate Money Magnet Candle.
Recite this powerful affirmation 'I AM A MONEY MAGNET' as you light this candle.
Crystals: 
Green Aventurine is a beneficial crystal for manifesting fortune, wealth, and abundance since it is full of winning energy. It is also known as a crystal that attracts luck.
Citrine crystals are used to Attract Wealth, Success and Prosperity. It also aids in increasing positivity and improving manifestation skills and powers.
Clear Quartz crystals have various benefits. For this candle, it is used as an energy amplifier! It amplifies the energy of the Citrine and Green Aventurine crystals and the energy of your intention. 
How To Use This Candle?:
Set Your Intention

Light This Candle

Recite The High-Vibe Affirmation

Light it while journaling, meditating, during manifestation rituals or when you are reciting other wealth manifestation affirmations.
Scent: Our Special Blend! - woody, soothing and luxurious! 
Description:
100% soy wax with fragrance oils added for scent
Our candles are 100% handmade, so each may be slightly different in appearance and colour
Each candle is approximately 10oz
Gold Metal Lid
Do not light

 

for more than 4 hours
Your order will come with one candle
Instructions:
You can light this candle with crystals inside of it. Each candle will melt differently as the crystal moves around. Please do not leave any candles unattended. Blow the candle out and move the crystal away from the flame if needed. We recommend removing the large crystal before lighting it to give an even melt to your candle. Keep your wicks nice and trimmed (about 5mm long). Towards the end of your candle, take out any crystals and rinse them in warm soapy water if you want to keep them (or remove them before lighting). If hot, allow crystals to cool before removing them. 
Caution:
Keep crystal candles away from flammable objects and away from children and pets.
Crystals are choking hazards.
Disclaimer: 
Our products are intended for the customer's personal use and discretion, with no scientifically proven medical, mental or health benefits. Please practice caution when using our candles, especially when hot or placing the candle near or on sensitive surfaces.
Share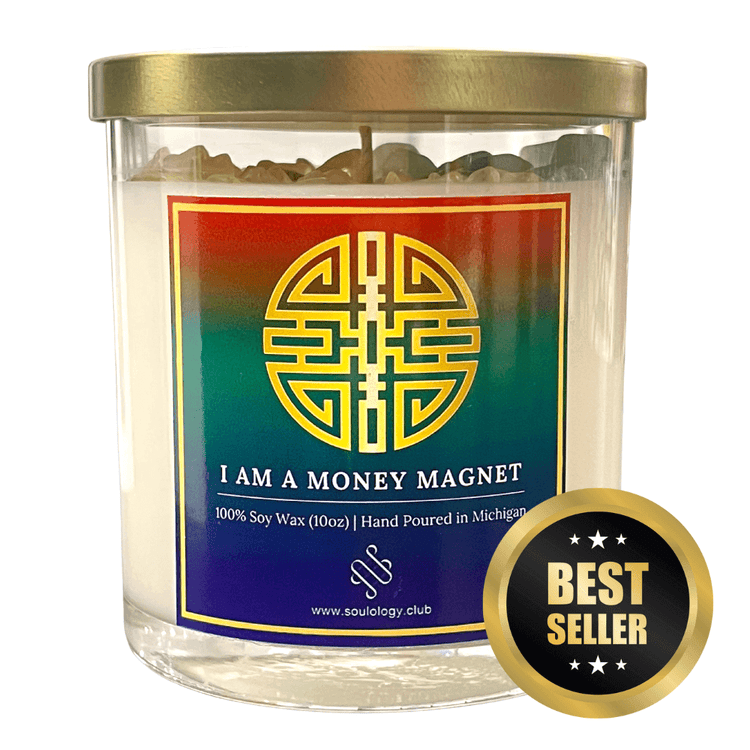 I love it!
I'm a candle enthusiast and this one is by far, one of the best ones I've ever purchased! It smells amazing even when it isn't lit! And it's so beautiful. You can tell it's high quality and that it was made with love. I love the energy it adds to my altar and my manifestation rituals!
GOT THIS CANDLE AS A GIFT AND IT WORKS! SMELLS GOOD TOO.
smells clean and fresh. i felt so calm and positive the day after lighting this candle.