I Am Loved Crystal Manifestation Candle - Love Manifestation
Regular price

$29.80 USD

Sale price

$29.80 USD

Unit price

per
Our 'I AM LOVED' Manifestation Candle is designed for you to attract the ideal type of love and relationships that you desire in your life.
Manifesting Love into your life involves using the power of positive thinking and visualization to attract love and create fulfilling relationships. By focusing on your desires and believing that you are worthy of love, you can manifest a loving and supportive partner into your life.
We highly recommend that you light this candle during manifestation rituals, journaling, and meditation. 
As you light this candle, recite this powerful affirmation 'I AM LOVED. I AM GRATEFUL FOR THE LOVING AND HEALTHY RELATIONSHIPS IN MY LIFE.'
Crystals: 
Clear Quartz crystals have various benefits. In this candle, it is used as an energy amplifier! It amplifies the energy of the other crystals and the energy of your intention.
Rose Quartz encourages kindness, compassion and love and calms emotions. Used to encourage tranquillity and quiet during meditation and improves emotional healing and general well-being. 
Amethyst is well renowned for promoting mental tranquillity. Regardless of the noise surrounding you, amethyst helps you discover inner peace. It helps you with comfort and peace of mind when embarking on new projects or a new journey. 
How To Use This Candle?:
Set Your Intention

Light This Candle

Recite The High-Vibe Affirmation

Light it while journaling, meditating, during manifestation rituals or when you are reciting other wealth manifestation affirmations.
Scent: Our own blend - Super lush and velvety... 
Top – Warm Spices
Middle – Vanilla Tonka, Jasmine, Coconut
Bottom – Cedarwood, Sandalwood, Amber, Musk, Cocoa Butter
Description:
100% soy wax with fragrance oils added for scent
Our candles are 100% handmade, so each may be slightly different in appearance and colour
Each candle is approximately 10oz
Gold Metal Lid
Do not light

 

for more than 4 hours
Your order will come with one candle
Instructions:
You can light this candle with crystals inside of it. Each candle will melt differently as the crystal moves around. Please do not leave any candles unattended. Blow the candle out and move the crystal away from the flame if needed. We recommend removing the large crystal before lighting it to give an even melt to your candle. Keep your wicks nice and trimmed (about 5mm long). Towards the end of your candle, take out any crystals and rinse them in warm soapy water if you want to keep them (or remove them before lighting). If hot, allow crystals to cool before removing them. 
Caution:
Keep crystal candles away from flammable objects and away from children and pets.
Crystals are choking hazards.
Disclaimer: 
Our products are intended for the customer's personal use and discretion, with no scientifically proven medical, mental or health benefits. Please practice caution when using our candles, especially when hot or placing the candle near or on sensitive surfaces.
Share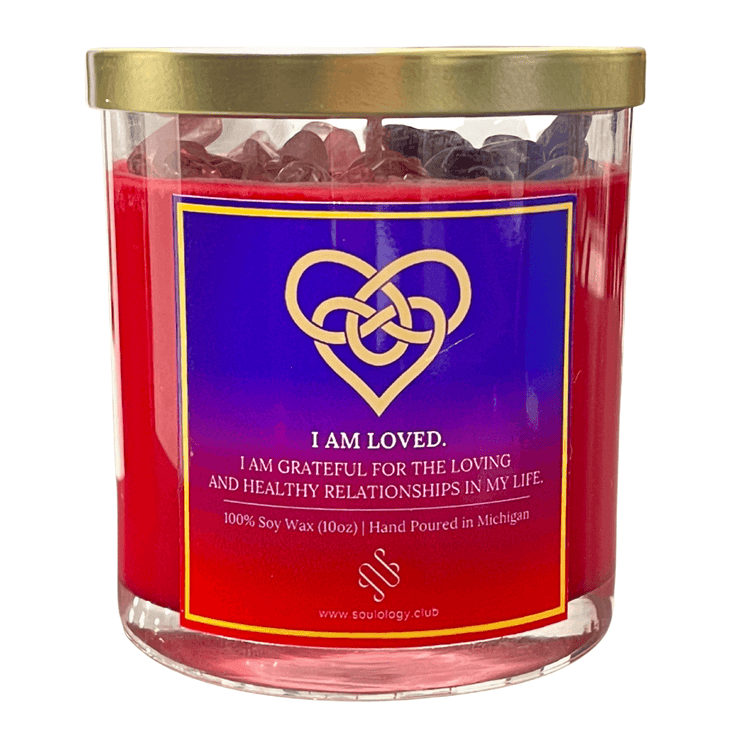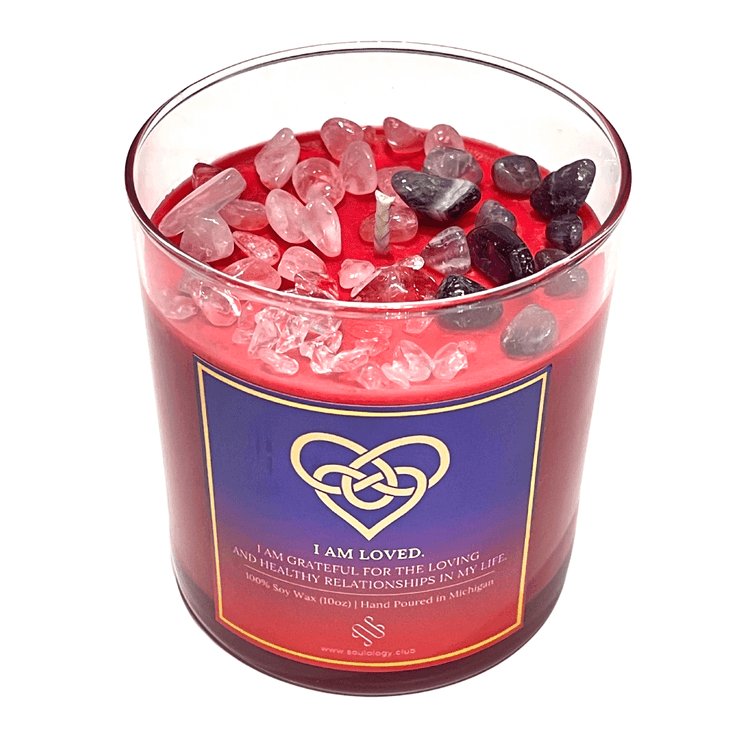 I felt the energy of this candle as soon as I opened it and it smells like love and luxury in a candle. So happy with my purchase. Def ordering more!